Welcome to my Scalp King settings and tips page.
Scalp King has more settings than most commercial EAs in the marketplace, so I'm including a screenshot of my basic conservative settings you're welcome to use as a starting point: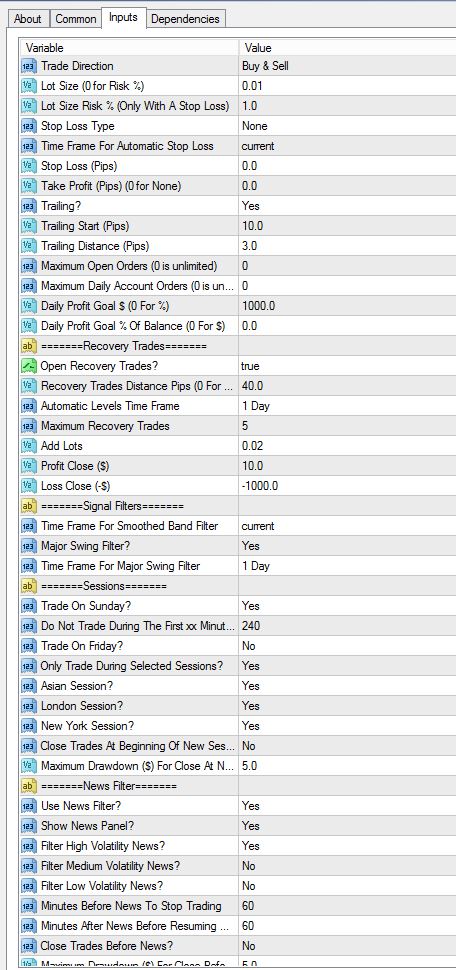 The above settings are based on a $1,000 account. During volatile market conditions, I suggest sticking with .01 lots per every $1,000 in your account. To make these settings even more conservative on larger accounts, simply use .01 lots per every $2,000 – $3,000 of capital.
I'm also including my suggested pairs:

Important: Avoid using GBP (Great British Pound) or CAD (Canadian Dollar) pairs on conservative accounts, since these pairs are much riskier to run!
For smaller $500 to $1,000 accounts, I suggest running these 4 pairs only: EURUSD, USDJPY, EURJPY & AUDNZD.
Pro Tip: Remember, risk management is key. There's no such thing as "set it and forget it" unless you have a large account (i.e., $30k+) and are using ultra conservative settings (i.e. .01 lots per every $3,000).
If you're shooting for aggressive returns like me, then you have to be willing to be more hands on. Which means making adjustments each week based on any impactful news that has the potential to affect each currency pair.
Even though Scalp King uses a built-in news filter for each pair, I still like to take a quick look at the weekly calendar at https://www.forexfactory.com/calendar.php and then manually adjust my settings each week depending on potential high-impact news for each pair I'm trading.
I highly suggest demo trading your own settings for at least a couple weeks before switching to a live account.
Because we can run Scalp King on multiple accounts without having to pay extra license fees, it's a good idea to create additional demo accounts to test different settings simultaneously.
One of the things I really dig UOPFX is you can earn while you learn. The more you learn the fundamentals of trading (from the UOPFX academy), the more you'll be able to manipulate Scalp King for larger gains like I've been doing.
As far as which brokers to use, I suggest those that offer at least 200:1 leverage. My favorite broker I personally use is Hugosway. Good quality non-U.S. brokers include IC Markets and Pepperstone.
Lastly, If you haven't already done so, be sure to join the UOPFX Telegram group for the latest news, tips and ongoing support directly from Reginald and other experienced UOPFX students (you should have received the link to join this group in the UOPFX welcome email you received from the company)
If you have any questions or comments, please use the comments box below or submit a support ticket.
Your Friend on The Inside,
Brad Weinman
Co-founder, M4 Research